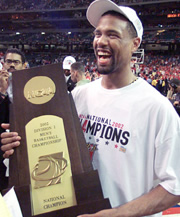 Byron Mouton, former captain of the 2002 University of Maryland National Champion team and the founder of 6th Man Sports, one the fastest growing youth basketball organizations in the country. Byron, a 6'6 swingman from Rayne, Louisiana, High School State Champion, AAU All American transferred from Tulane University where he was the teams leading scorer, to University of Maryland where he lead the Maryland Terrapins to their first National Championship in the history of the University.
Byron is a retired professional basketball player. He has played professional basketball in the United States, China, Germany and France. During his professional career, he was always known as a leader on and off the court. Byron being the competitive ball player and individual that he is, has always played a part in leading his team to a victory.
Today, Byron continues to grow 6th Man Sports with more than 35 of the most competitive basketball teams throughout the east coast and Louisiana. In addition to these teams, 6th Man Sports has a youth basketball league called EBL "Elite Basketball League" for kids 1st-11th grade which teaches the fundamentals of basketball. 6th Man Sports not only teach the fundamentals of basketball, but sportsmanship, leadership, discipline and last but not least, the importance of academic achievement.
Byron also assist in executing sports programs with the Montgomery Sports Association (MSA). MSA have one of the largest youth after school sports programs in Montgomery County which includes basketball, baseball, soccer, football and tennis. The programs are community based and are designed for kids that love sports and want to learn the fundamentals of all sports.